Did you know January is School Board Recognition Month? TASD school board members serve students and represent their communities. Board members face complex and demanding challenges. They spend many hours serving their schools, students, and communities. Be sure to thank a school board member this month. Jesse Buchanan, President; Larry Manley, Vice President; Vickie Lacy, Secretary; Frank Coleman, Amy Leslie, Sandra Rhone, and Pam Winchell.

Texarkana Arkansas School District will be closed for Christmas Break from Wednesday, December 21, 2022, through Wednesday, January 4, 2023. Classes will resume on Thursday, January 5, 2023. Have a happy and safe Christmas Break. #teamtasd #potentialrealized

Due to the weather, the AHS baseball tryouts will now be held in the Hardy House from 4:00 - 5:00 PM.

Inclement weather is predicted for this Friday, November 4. Therefore, the varsity football game against De Queen has been moved to this Thursday, November 3 at the same location (Razorback Stadium) and same time (7:00 p.m.). Senior Night festivities will begin at 6:25 p.m. Come out and support the Razorbacks.

The Texarkana Arkansas School District invites you to come out for the Hogs Through the Decades Homecoming Parade. The parade will take place this Wednesday, October 19 at 6:30 p.m. TASD campuses will create floats representing specific decades. So put your favorite decade attire on and come out to support the homecoming court. A community homecoming celebration and awards ceremony for the best float will take place at Razorback Stadium immediately following the parade. Visit our website at
www.TASD7.net
or follow us on Facebook to view the parade route.

Annual Title 1 Parent Meeting - All parents/guardians are encouraged to attend the meeting. The purpose of this meeting is to provide information about our Title 1 Program and your right to be engaged in your child's education. September 29th - 8:45 a.m. - Administration Building

Parent/Teacher Conferences - September 15, 2022 from 4:00 - 7:00 p.m. at all campuses.

Starting Monday, September 12 ALL bus riders will be required to scan their ZPass cards as they enter and exit the buses in the morning and the afternoon. The ZPass provides an additional layer of safety and security with instant access to your child's transportation status. Please help us by talking to your child about the importance of having his or her card at all times. If a student does not present and scan the Zpass, he or she will NOT be allowed to ride a bus. The initial ZPass will be provided to each student at no cost. If a student loses or destroys the ZPass, a replacement must be purchased from the designated school office. Replacement cost is $5.00.

The AHS Golf Match scheduled for this Thursday, September 1st , in Pine Bluff has been cancelled. #teamtasd #potentialrealized

All power, phones, and internet have been restored.

Several of our campuses and offices are experiencing power, phone and/or internet outages. We will keep you notified of any updates as we receive additional information.

AHS Golf Match - 8/11/22 - in Hot Springs @ Diamond Head Golf Club- 3:30 p.m. #teamtasd #potentialrealized

Federal Programs Consultation & Survey - TASD receives Title I, II, and IV federal funds. We would like your suggestions on how the district can best support students and families through the use of these dollars.
https://forms.gle/EN9yKy4tq3ohfmFK6

Mark your calendar and make plans to attend the Back to School Community Bash. The event will take place at Razorback Stadium on Tuesday, August 9 at 5:00 p.m. Bring the family out for a fun-filled evening - food, music, games, dunking booth, free haircuts, free supplies, and more. The AHS Red/White game will begin immediately after the Community Bash. Admission is free!
https://www.tasd7.net/article/790806

All school bus riders must be registered to ride the buses before Friday, August 12. Registering your student before the August 12 deadline helps the transportation department plan efficient routes to get students to school and home in a timely manner. If your student is not registered before Friday, August 12, he or she will not be on the pick-up or drop-off schedule and will not be assigned a stop location or time. No new transportation requests will be accepted during the first week of school. Bus registration will resume on Monday, August 22 and will take 48 hours to process. So please take a moment to register your child today at
www.tasd7.net
.

AHS Football is offering a FREE kids football camp. Open to ALL students entering K-6 regardless of the school the student attends. Click on the link below to register. Sign up:
https://bit.ly/AHSCamp2022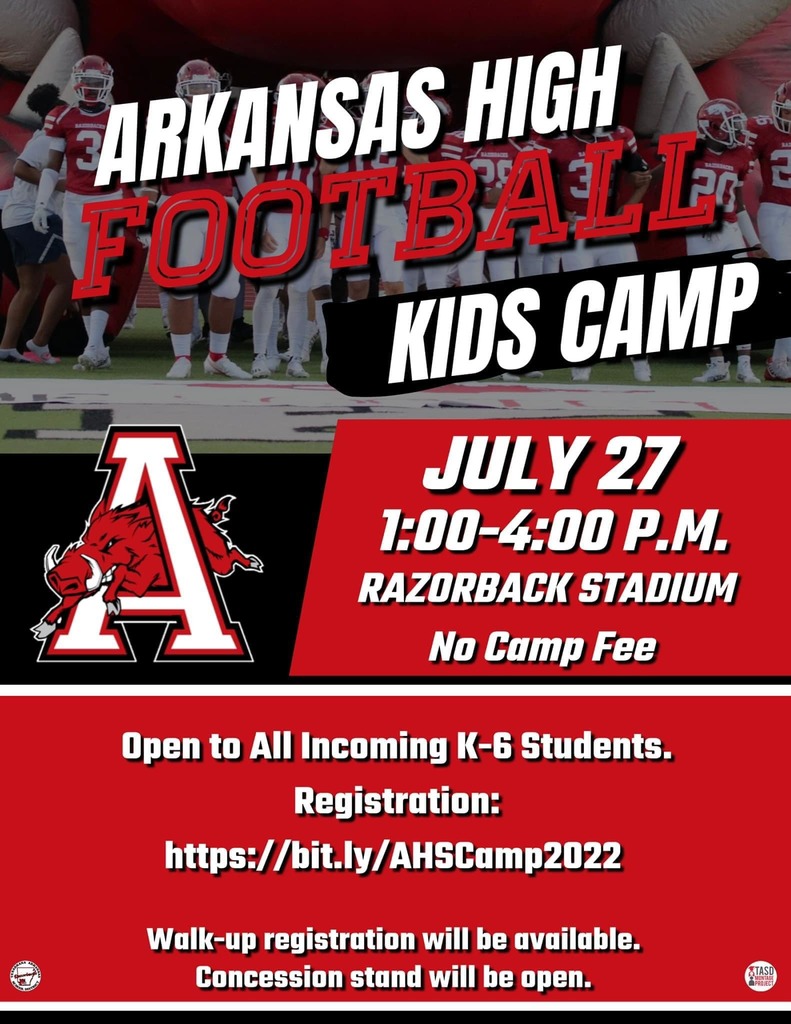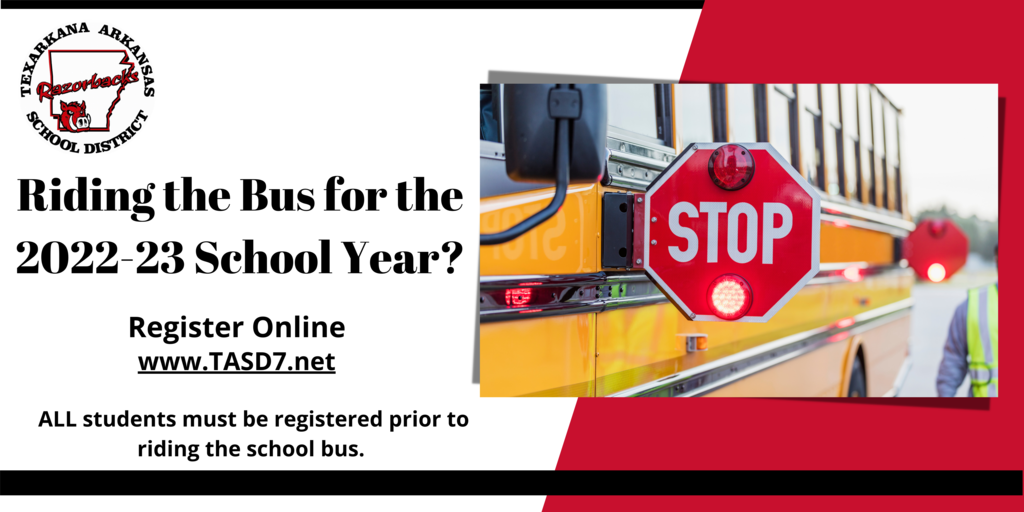 Did you know summer reading improves vocabulary, spelling, comprehension, phonics, and fluency. Additionally, research shows that summer reading neutralizes summer learning loss. Be sure to read with your child this summer. scholastic.com/site/summer-reading.html


The AHS Baseball, Softball, and Soccer games scheduled for tonight at home against Lake Hamilton have been cancelled and rescheduled for tomorrow night starting at 5:00 pm. Girls Soccer will have their senior night prior to the start of their game, at approximately 4:50 pm. #teamtasd #potentialrealized