AHS Teacher Receives National Board Certification - Arkansas High School teacher, Anna Shumake, recently received her National Board Certification. National Board Certification is an advanced teaching credential. As part of this process, teachers must analyze their teaching context and students' needs, submit videos of their teaching, and provide student work samples that demonstrate growth and achievement. The reflective analyses that they submit must demonstrate: 1) A strong command of content; 2) The ability to design appropriate learning experiences that advance student learning; 3) The use of assessments to inform instructional decision making; and 4) Partnerships with colleagues, parents, and the community. Through this structured and iterative process, teachers expand and refine their content knowledge and pedagogy. The outcome is more powerful teaching that improves student achievement and reflects college and career readiness. "I started working on my National Board Certification four years ago, and it was the most challenging undertaking I have done in my career, but one of the most rewarding," Shumake commented. Mrs. Shumake graduated from Henderson State University with a Bachelor's degree in Social Science Education and joined the TASD family in 2012. Later, she received her Master's degree in Curriculum and Instruction. During her time at AHS, Shumake taught World History, Psychology, and Sociology; she also taught the following Advance Placement courses: World History, European History, Human Geography, and Research. In addition to teaching, she is a Google Certified Educator and serves as the department chair for the AHS Social Studies Department. "I am a local girl who graduated from Pleasant Grove and decided to become a history teacher after taking AP United States History with Mr. Chuck Zach my junior year," said Shumake. Shumake said the National Boards have helped her learn how to assess the needs of her students and give targeted instruction based on their needs. "Becoming a National Board Certified Teacher helped me grow in my practice to best serve the students at Arkansas High School," Shumake commented. "I had a lot of support from the AHS facilitators through this process. Their feedback, support, and encouragement was invaluable to me."

AHS Receives Honorable Mention Computer Science Ranking - Arkansas High School is one of six schools recognized for their computer science initiative. For the past five years, Arkansas High School (AHS) has participated in the Governor's High School Coding Competition, and during those five years AHS won the regional competition and advanced to state. In an effort to promote the computer science and robotics program, AHS offers eleven computer science/robotics courses and two computer science programs of study. Additionally, students participate in the annual National Hour of Code initiative. "In order to set our students up for present and future success, it is imperative that we deliver effective and equitable computer science education," commented Diana Lowe Curriculum Director of Science and Mathematics. Lowe said, "It is our hope that through our programs students will leave our schools with the credentials to be in the futuristic jobs that aren't really that far away." The Arkansas Department of Education (ADE) Office of Computer Science announced the continuation of the Arkansas Computer Science Gold Medal School Program (ACSGM) and the rankings for the 2020-2021 ACSGM, the inaugural year of the program. The ACSGM was designed to recognize Arkansas high schools for outstanding work in supporting and implementing the Arkansas Computer Science and Computing Initiative. Schools are ranked based on information submitted to and reviewed by the ADE Office of Computer Science. The criteria that forms the basis of the rubric centers on Governor Asa Hutchinson's 5-year goals and the recommendations of the 2020 Arkansas Computer Science and Cybersecurity Task Force. As part of the ranking rubric, schools may receive no ranking, honorable mention, bronze, silver, or gold ranking, with gold ranking being the highest level and requiring high performance in a majority of the criteria. For the 2020-2021 cycle, the ADE Office of Computer Science received and reviewed twelve applications. Of those twelve applications, three schools received a Bronze level recognition with three schools receiving an honorable mention. Those rankings, in alphabetical order, are as follows: • Arkansas High School in Texarkana - Honorable Mention • Arkansas School for Mathematics, Sciences, and the Arts - Bronze • Bentonville High School - Bronze • Bentonville West High School - Bronze • Russellville High School - Honorable Mention • Springdale High School - Honorable Mention

Super Bowl Champion, Hollywood Star Spencer Paysinger Visits TASD - A Super Bowl champion linebacker turned Hollywood writer/producer, Spencer Paysinger brought his own poignant story of living in South Central LA and playing football at Beverly Hills High to the hit CW and Netflix series, All American. "It's a story about being an outsider in two worlds," says Paysinger, who developed the award-winning show and is integrally involved as a producer. Like the "Spencer" character based on his life, Paysinger grew up amid the drugs, gangs, violence, and poverty of South Central LA with education-focused parents and a dream of going to college. A promising athlete who played four sports but excelled in football, he was offered the opportunity to attend Beverly Hills High, going on to lead the football team as captain to an undefeated season. A scholarship to the University of Oregon followed, where Paysinger also became team captain and was part of the team's very first undefeated season. Graduating with a bachelor's degree in economics, he began his NFL career with the New York Giants, winning Super Bowl XLVI in his rookie season. Paysinger played seven seasons with the Giants, Dolphins, and Panthers. Paysinger isn't just another successful athlete whose story is portrayed on film. He is the creative force that developed the concept for All American, pitched it to network decision-makers and, still sits in the writer's room to brainstorm and ensure that the show stays true to its original vision. Committed to leveraging his success to create opportunities for young people, Paysinger serves on the board of KIPP Public Schools Black and Latino Leadership Committee, with the goal of creating programs for KIPP's South Central Youth. Paysinger will speak to students at Arkansas Middle School and Arkansas High School on Thursday, December 9. #teamtasd #potentialrealized

TASD will hold a Meet and Greet event for Arkansas Middle School's new principal, Mr. Kendrick Smith. The event will be Wednesday, December 1 from 4:30 to 5:30 p.m. at Arkansas Middle School. #teamtasd #potentialrealized

Thanksgiving Break - November 22 - 26, 2021 #teamtasd #potentialrealized

TASD Board Hires Smith as New AMS Principal - The Texarkana Arkansas School District Board of Directors hired Kendrick Smith to take the helm as the new Arkansas Middle School Principal. Smith will replace Theresa Cowling, who accepted the position of Director of Magnet Programs earlier this month. "We are pleased to announce Kendrick Smith as the Principal of Arkansas Middle School," TASD Superintendent Dr. Becky Kesler said in a statement. "Mr. Smith's interest and focus on developing relationships with staff and students is commendable and will continue to bring out the best in Arkansas Middle School." Smith earned a Bachelor of Science in Health Education from Texas A&M University – College Station and received his Master's degree in Education Administration from Texas A&M University – Texarkana. With over 20 years in education, Smith's educational career includes being a coach/teacher and assistant principal in the Pleasant Grove School District, and both assistant principal and principal at Liberty Eylau High School. "I believe it is important for a principal to know his or her staff and students and build relationships with them," commented Smith. "I look forward to getting to know my staff and gaining their trust and confidence." Smith says that through the process of building relationships he hopes to learn the individual strengths of staff and build on those strengths with recognition and praise.

Due to the today's heavy rainfall and muddy conditions, the postponed AHS bonfire pep rally scheduled for tomorrow, November 3, 2021, has been cancelled. We are sorry for the inconvenience.

DON'T FORGET TO FALL BACK - Daylight saving time is coming to a close, this year's time change happens on Sunday, Nov. 7 at 2 a.m.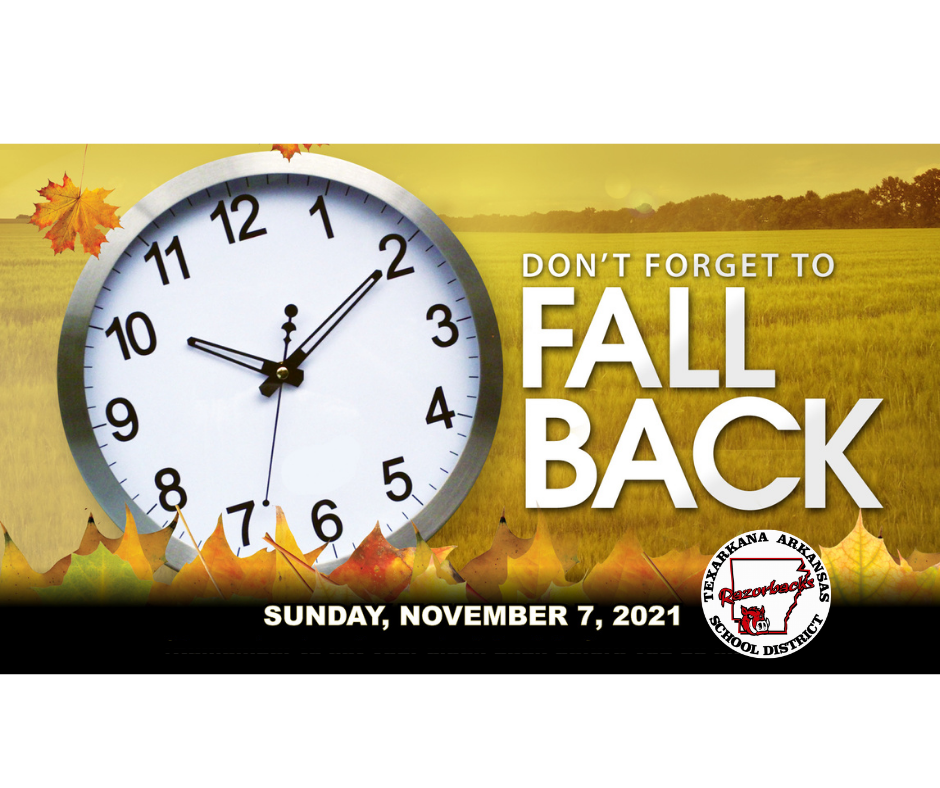 The AHS senior pep rally is postponed due to muddy conditions and forecasted high winds. We look forward to honoring our seniors at next week's Senior Pep Rally on November 4th. More information to come! Thank you for your patience and understanding. Class of 2022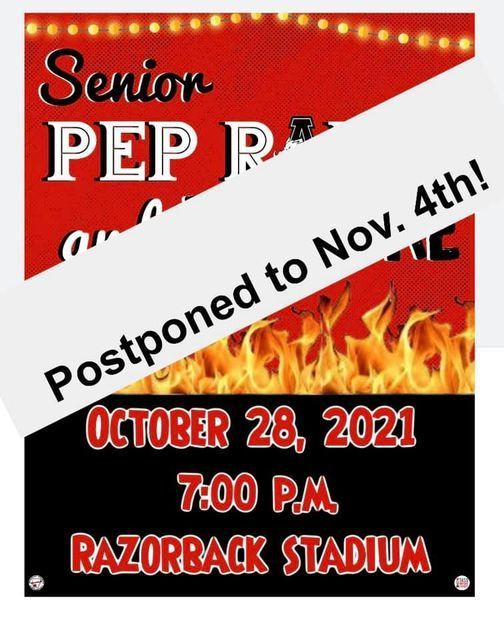 SEE or HEAR SOMETHING, SAY SOMETHING. Over the past several weeks, Texarkana Arkansas School District and campus officials have noticed incidents of written threats against the school in restroom stalls on the high school campus. The Texarkana Arkansas School District (TASD) and Texarkana Arkansas Police Department (TAPD) take every threat seriously and conduct threat assessments to determine the validity of any threat made whether the threat is made on social media, in-person, written in a restroom stall, etc. If a threat is deemed credible by TASD and TAPD, any of the following actions may take place: increased security and police presence, school lockdown, and/or school cancellation. The district will communicate the nature of the credible threat with students, staff, and parents along with the actions taken. If it is determined, after a thorough assessment is conducted, that the threat is not credible, the campus will resume as normal with additional security and police presence. It is very important for parents/guardians to partner with us by talking with your child and explaining the seriousness of making threats against their peers, staff, campus, or district. Such actions face severe consequences which may include expulsion from school and/or arrest. Anyone with information regarding any threat against another student, staff, or campus should report it immediately to a district or campus administrator or the Texarkana Arkansas Police Department. If you hear or see something, say something. It takes everyone working together to help ensure a safe learning environment for the students and staff of the Texarkana Arkansas School District. We realize that our students, like many children across the nation, are facing difficult times as we continue to recover from the affects that COVID-19 has had on our school community. If you or someone you know needs support or is reaching out for help you can contact a school official or connect with a Crisis Counselor by texting HOME to 741741.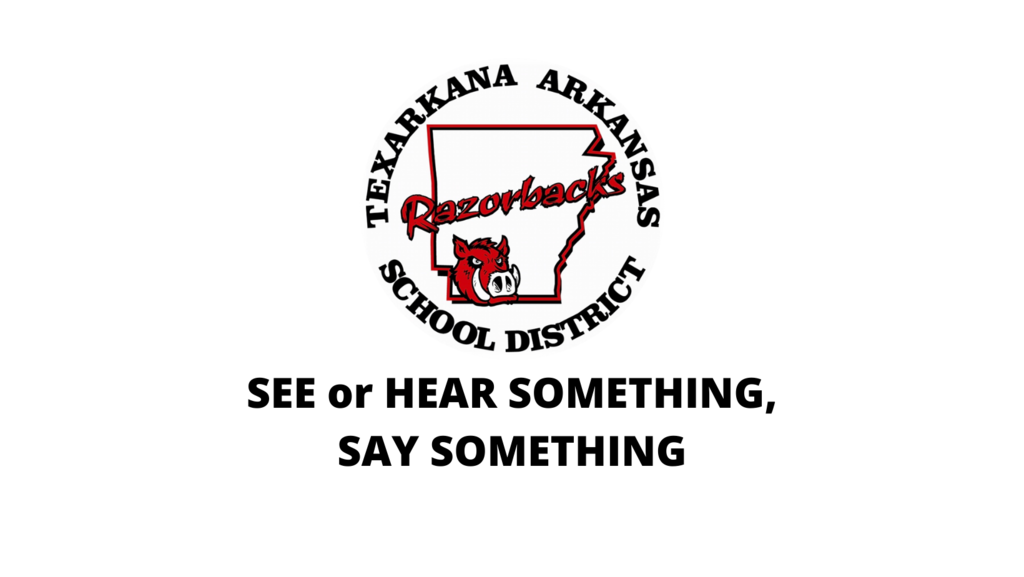 Senior Pep Rally and Bonfire - Thursday, October 28 at 7:00 PM - Razorback Stadium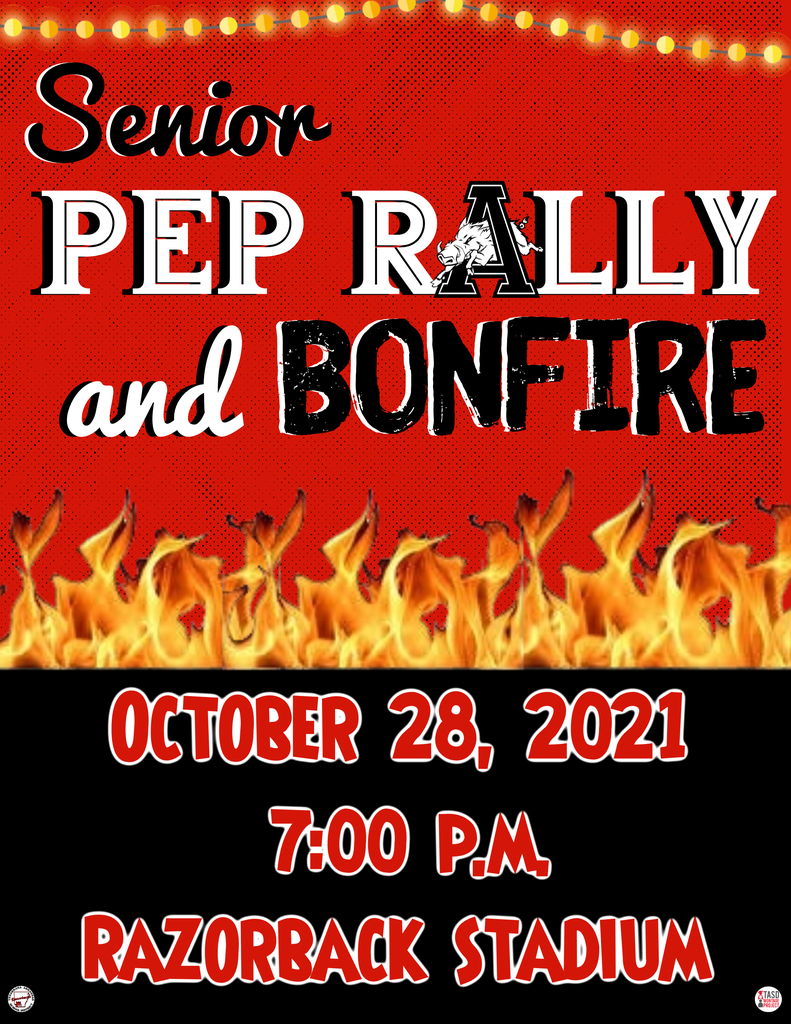 TASD District Wide Pink Out - Friday, October 29 - WEAR PINK


Congratulations to the Arkansas High School Band for receiving all 1 Superior ratings at the Regional Marching Assessment Competition! GREAT JOB!

FACE MASK MANDATE LIFTED - The Texarkana Arkansas School District has lifted the face covering mandate. However, face coverings are strongly recommended for staff, students, and visitors when unable to socially distance. #teamtasd #potentialrealized

Congratulations to the Arkansas High School Razorback Redline on their awards at their first dance competition. Judges Choice Award for Fight Song and 2nd Place Overall for Gameday. #teamtasd #potentialrealized

AHS Band to Hosts Regional Marching Competition - On Tuesday, October 19, the Arkansas High School Band will host and perform in the Region 2 Marching Assessment Competition. Eleven high school bands from the southwest region of the state of Arkansas will be representing their schools at the event. Each band will present a five to eight minute performance that will be assessed by an expert judging panel. Judges will rate the bands' music, marching, brass, woodwind, percussion, and color guard performances. The ratings for each performance will be assessed as one of the following: Superior, Excellent, Good, Fair, or Poor. The high school bands represented in the Arkansas School Band and Orchestra Association Region 2 Marching Assessment have been working hard since August to prepare for their contest performances. The event is free to the public, so come and enjoy the performances and support your favorite band. Arkansas High Razorback Stadium Tuesday, October 19, 2021 5:00 p.m.* *Visit
www.TASD7.net
to view the schedule for each high school band performance.

TIME CHANGE FOR VOLLEYBALL GAMES TONIGHT! AHS vs El Dorado- Razorback Gym Varsity- 5:00 pm followed by JV AMS vs El Dorado- AMS Gym 9th Grade- 5:00 pm followed by: 7th Grade (A & B) & 8th Grade #teamtasd #potentialrealized #saferazorbacks

This is a friendly reminder that students will not attend school on Friday, October 8 and Monday, October 11. Staff Professional Development Day is on Friday and Columbus Day is Monday.

Thursday morning, Arkansas High School administrators were made aware of a threat written in one of the restroom stalls. The campus administrators, Texarkana Arkansas School District security personnel, along with the Texarkana Arkansas Police Department immediately followed threat assessment protocol to determine the validity of the threat. It was determined that the threat was not credible. At this time, there is additional police presence on campus, and the Texarkana Arkansas School District will continue working with the Texarkana Arkansas Police Department to further investigate the incident. We must all stay vigilant and work together to ensure the safety of our schools and our community. Please continue to talk to your children and let them know how to reach out for help or to report suspicious behavior. If you see or hear something that alludes to a possible dangerous or harmful situation, call and report it.

Let's paint Texarkana red and show our school spirit this Friday by wearing red. Also, join us this Friday night at the "Grab a Panther by the Tail-gate" and football game.